Home Decor
Crystals are such a wonderful addition to your home that you'll wonder how you ever lived without them. Many pieces that I source are simple, natural works of art left in their original, organic form. Others are carved and polished into statues or bowls, to be appreciated for their beauty. All have been sourced with due care to ethical and environmental best practice. This means you can confidently choose a unique artwork which you will have for life: a forever friend and precious heirloom.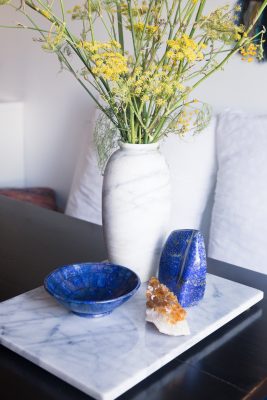 Whatever your preference, crystals and minerals add colour and energy to your home and make a great house-warming gift or finishing touch to a room revamp. They will create a new feel to any space – your garden, patio or deck – and many are fine outside in all weathers. If you are unsure of their suitability for the outdoors, just ask me via my Contact page. A beautiful, well-chosen crystal may create a focal point, be placed on a pedestal as object d'art, or could even be incorporated into a water feature or fountain.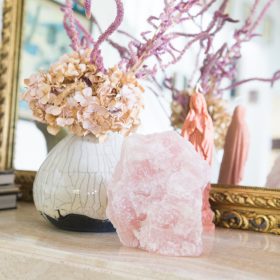 Many of us have a place in our home for family mementos where we can add something special and significant. Placing a piece on our desk can support focus and creativity, and even help protect us from the negative aspects of our computer while we work. Some of my clients want an altar piece, grave marker or a crystal for their meditation space or yoga room. If this sounds like you, do reach out if you'd like some advice.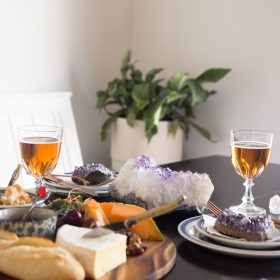 Crystals and minerals are the perfect companions to the plants and timbers many of us already have in our homes, bringing a natural synergy and connection between the 'quick' growth of plants and trees, and the slow, geological growth of mineral structures. Crystals and plants bring out the best in each other and small pieces, placed on the soil in a plant pot will also help reduce moisture loss.
If you're building your own home, sleep out or studio, this is the perfect time to add small tumbled or raw pieces into the foundations or footings to energise a particular outcome or to provide a sense of happiness, security or protection. You may wish to check out my Shop by Intention page via the home page to further explore this.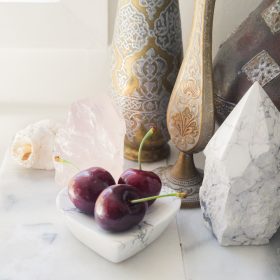 Crystals are a great talking point, and can be a lovely addition to your dining table as both a centrepiece or to add something personal to each place setting. A bowl of varied crystals may be purely decorative for some of us, but can also be a really effective tool when used by a therapist as the means to initiate a conversation with their new client.
So, whether you choose your crystal or mineral to match the colour scheme of your room, for its properties or to implement a change, please do enjoy the process and trust that you will be drawn to something that is just right for you. Happy hunting.
---
Thanks to Jennifer Paul for the use of her beautiful home in these photos @jenniferpaul62